Diversity of many varieties was on the brain for many spheres of television this year. Network executives, showrunners, critics and audiences alike engaged in thoughtful discourse about what it means to make diverse television in 2015. There are more places than ever to watch TV, and more places than ever to distribute it. It makes logical sense that TV offerings this year would touch on a wider range of issues, feature a wider range of character types and demographics and explore a wider range of stories and universes than ever before.
But with great power comes great responsibility. My favorite shows in 2015 were the ones that used the expanding boundaries of what's possible on television to their fullest advantage, crafting rich and surprising worlds, telling stories that dovetail with the themes, ideas and controversies guiding our daily lives. In relatively arbitrary order of preference (who's to say whether a dark comedy about an animated horse is superior to one of the most beloved drama series of all time?), here are my ten favorite shows of 2015.
But first! An honorable mention: Transparent.
It's possible that, with more time to ponder and reflect, Jill Soloway's unique exploration of gender and sexuality through the lens of a self-absorbed Pacific Palisades family might have cracked my top ten list. The only reason it didn't is that I just finished the second season a couple days ago, and it came out too late for me to fully process my reaction to it relative to other things this year. That's the slippery, superficial nature of a top ten list – it's reflecting a very small sample size of what's actually out there, and often for reasons that shouldn't burden the shows vying for spots on this list.
But whatever the politics that made Transparent miss my list, I'm certain that the show was among my favorite viewing experiences of 2015. I admired the bold filmmaking choices and the experimental narrative structure. I laughed and teared up at the appropriate moments for the ensemble cast, which has only improved since last season. And I'm eager to see how the show continues this moving, emotionally tangled web of stories in its third season. With any luck, we won't have to wait quite as long for the next round.
10. Fargo
I didn't publicly rank my favorite shows of 2014, but if I had, this one would have been in the pole position of my list. That its second season ends at the bottom of my top ten says nothing about the quality of this season and everything about the vibrant range of great TV shows sprawled across this fascinating year.
In fact, the second season of Fargo trumped its excellent predecessor in almost every respect. With more characters, intersecting plotlines, ambiguous narrative devices and bold filmmaking choices, creator Noah Hawley and his creative team set themselves up for failure or shortcoming at nearly every turn. Instead, they delivered a gripping, layered, even poignant set of episodes that told the story of the Massacre of Sioux Falls (hinted at in the first season in one of Keith Carradine's many great monologues) from every possible perspective. Standout performances from one of the best ensemble casts you can imagine include Kirsten Dunst as the mentally unstable and determinedly feminist housewife Peggy Blumquist, Zahn McClarnon as the vengeful Native American assassin Hanzee, Bokeem Woodbine as the ultra-smooth, world-weary drug mogul Mike Milligan, and Patrick Wilson as the unflappably stoic state trooper Lou Solverson. (But also Ted Danson, Jesse Plemons, Nick Offerman, Brad Garrett, Jeffrey Donovan, Jean Smart, Cristin Milioti, Rachel Keller, Angus Sampson…ah, the embarrassment of riches.)
Unlike in the first season, which constructed a binary morality in which good people triumphed and evil people were vanquished, this season offered more thematic nuance, suggesting that even the best intentions can't outweigh life's most nihilistic tendencies. It's a message that befits the late 1970s, a setting which informs everything from the presence of Ronald Reagan (played in one memorable episode by Bruce Campbell) to the emphasis on '70s-style suspense cinematography, the prominent use of splitscreen and the occasional hovering presence of a UFO's warm blue glow.
The anthology format of Fargo lets the show tell a new story with new characters, new actors and a new setting every season. Based on the two examples so far, Fargo shows no sign of drying up as a vessel for Hawley & company's impressive ability to generate tension, wring comedy out of desperation and pay tribute to the Coen Brothers without ripping them off.
Listen to my podcast with Devin Mitchell and Chloe Johnson about the second season.
9. Master of None
As someone who sits comfortably within the "millennial" category that's become shorthand in some circles for laziness, self-absorption, overreliance on digital technology and superficial self-deprecation, Master of None hits home. But the brilliance of Aziz Ansari and Alan Yang's comedic exploration of modern life and tentative romance in New York City is that it looks beyond critiquing millennials and instead strives to understand them. A spirit of curiosity pervades every narrative engine on this show, compelling Ansari's struggling actor analog Dev to learn more about the history of his parents' emigration to America, to understand how being a woman places obstacles in front of his girlfriend Rachel (Noel Wells), and to contemplate what his purpose as a full-blown privileged adult could be at a time when he's still shaping his identity. The show tackles subjects like race, aging, gender dynamics, social etiquette and consumer lifestyles with a light touch, letting the characters do the learning along with the audience.
The first episode of Master of None is its weakest, a funny but slight half-hour in which Dev gets a taste of parenthood when he offers to watch his friend's kids for a few hours one Sunday afternoon. But its second episode instantly snaps the show's unique perspective into focus, as Dev and his friend Brian gradually realize that the comforts they take for granted can be traced directly back to the sacrifices of their parents, who made a bigger and riskier leap than anything Dev or Brian could even imagine attempting by leaving their home countries and coming to the United States. Dev's roots in India come up every so often throughout the next eight episodes, particularly in the bluntly titled episode "Indians on TV." But the show smartly applies the ideas and themes of a given episode to what comes after, as when Dev explains why telling his conservative-leaning parents about his new live-in girlfriend might be a mistake in the superb "Mornings." Later, an episode centered around sexism colors the trajectory of Dev and Rachel's relationship as it plays out over the rest of the season, as they struggle to see outside themselves and what the other is feeling, even as they recognize that their differences are also their strengths.
Praising a TV show for "feeling like life" often feels counterproductive to me, as if people only watched TV to see the closest possible approximation of what it's like to not watch TV. But Master of None does what realistic filmmaking can do at its best: offer a window into issues and challenges that affect your own life while helping you invest in someone else's. Thanks to sharp writing and breezy characterization, Ansari and Yang (with the help of many of the writers who made Parks and Recreation such a lovely blend of cartoonish and humane) have fashioned a story that takes place clearly in 2015, but with enough weight and universality that it will apply to contexts beyond this one. It bridges the gap between millennials and the people who claim to understand them, even as those people likely would be loathe to pinpoint the pitfalls of their own generation.
8. BoJack Horseman
Another Netflix shows comes in just ahead of Master of None, but this one takes place in a world that's far zanier and more anthropomorphic than our own. BoJack Horseman takes full advantage of the creative license that animation provides, imagining a universe in which talking animals co-exist and intermingle among humans. The title character is the former star of a popular 90s family sitcom, Horsin' Around, and he spends much of the second season in a committed relationship with an owl.
This could all be very silly and weightless, but the BoJack Horseman ethos is far sadder and more complex than its appealing aesthetics would suggest. In this second season, BoJack descends even further into depression, grappling with mid-life insecurities and struggling to connect with the people who care about him, even when he knows he should care and wants badly to show that he does. The women in his life face struggles of their own in a similar vein, none more piercing and compelling than capable journalist Diane Nguyen-Peanutbutter (Alison Brie) balancing her love for her canine husband (Paul F. Tompkins) with the career ambition and drive that he clearly doesn't share.
BoJack is an eminently bingeable show that also rewards repeat viewing. But it's stuck with me because it gives weight to emotions and mental states that most live-action shows struggle to visualize. Its humor aches, and its heart burns.
Read my post about season two.
7. Mad Men
Was there a more memorable, haunting image on TV this year than the final shot of Mad Men, with Don Draper chanting "Om" on top of a sunny hillside before a smash cut to the iconic "I'd Like to Buy the World a Coke" advertisement from 1971?
Oh wait, there was. It's at the end of Mad Men's antepenultimate episode — the one where Peggy strolls down the McCann hallway, cigarette dangling from her mouth, erotic octopus painting on her arm, sunglasses across her face.
These are just two of the signature images that exemplify everything that Mad Men one of the most acclaimed shows of the last decade. Visually, they're striking and dense with subtext. Thematically, they take the show's main characters in new and surprising directions that are simultaneously in keeping with what we already know about them. And narratively, they represent important markers on the never-ending quest to understand the fascinating individuals at the center of this immersive literary drama.
AMC's profit-driven decision to split the final season of Mad Men into two halves separated by a full calendar year still smarts. The first half of this year's abbreviated season leaned on characters the show seemed to have long since exhausted. But beginning with "Time & Life," directed by former cast member Jared Harris, Mad Men sprinted for the finish line in a blaze of glory. There's enough catharsis, intrigue, uplift and despair in these four episodes to rival any spread of tones the show engaged with over its 90-odd-episode run.
Read my review of the standout episode "Time & Life," and listen to my podcast with Devin Mitchell about the series finale.
6. Mr. Robot
I saw commercials and billboards advertising USA's new drama Mr. Robot for months before it debuted. Then the network debuted the pilot episode online for free streaming several weeks before it premiered on TV. Still, I resisted, turned off by what seemed like an uninspired premise on a network that isn't exactly known for format-busting, innovative television.
And yet, when I finally let go of my pretentious inhibitions, that's exactly what Mr. Robot turned out to be. This show looks and feels like nothing else on television, with an insistent score and equally urgent voiceover from the star, Rami Malek, who turned in the most riveting performance I saw this year. Many shots eschew the traditional two-shot structure, with camera positions alternating between the entire face of one character and the entire face of another, instead pulling out and leaving the characters stranded at the edges of the frame. That's how many of the characters on this paranoid thriller, but thankfully the show never keeps its audience at a remove. We're with our hero Elliott Alderson every step of the way, even when we find out that his storytelling has been far from reliable.
Read my post on season two.
5. Last Week Tonight with John Oliver
No show taught me more about what's happening in our world today than this weekly half-hour talk show, modeled after Jon Stewart's iteration of The Daily Show but with an intense commitment to detailing the intricacies of established institutions including FIFA, the American prison system and the relationship between the D.C. and federal governments. Oliver has insisted in interviews elsewhere that he is not a journalist, and that his show simply searches for the funniest possible material. But in that search process, Oliver and his team of writers turn up astonishing facts and deliver them with a perfect mix of sincerity and mockery.
Read my post about this year's episodes.
4. Broad City
There's plenty of intellectual commentary to write and think about Broad City: its sympathetic depiction of a loving female friendship, its characterization of New York City as a vibrant, diverse community filled with baffling eccentricities; its rise from web series to Amy Poehler-produced TV sitcom; its limitations as a depiction of the white, middle-class experience.
Or I could just remind you that this season, Kelly Ripa guest-starred as herself and snorted cocaine with Abbi. Or I could post this gif of Ilana's reaction to Abbi's news of a sexual breakthrough: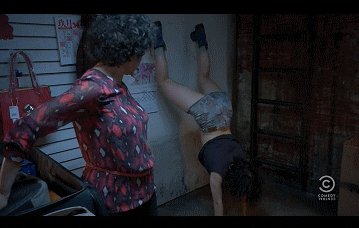 Or this one of Abbi dancing to Lady Gaga's "Poker Face" in the nude:
Or I could point you to to "St. Marks," a magnificently directed whirlwind of an episode whose breathless pace is outmatched by only the most high-octane TV dramas.
Broad City is the most purely funny show I saw in 2015. It's so densely packed with jokes that its subtle, wry intelligence could easily get lost. But Glazer and Jacobson, along with a well-matched team of writers and directors, keep the focus firmly trained on the central duo's relationship. It's a gloriously goofy, off-kilter blast of fresh New York air.
Read my post about New York City as a (cliche alert) supporting character in season two of Broad City.
3. Review with Forrest MacNeil
The first season of this low-rated Comedy Central series seemed to leave the show with nowhere to turn. Last we saw, Forrest MacNeil had abandoned his post as the host of a game show that forces him to review any life experiences his worldwide audience suggests. The entire first season was comprised entirely of footage from the game-show-within-the-show. Would the second season break from tradition? Or would it compromise Forrest's riveting character arc for the sake of more wacky hijinks?
No, and no. Instead, the show turned Forrest's reluctant return to Review as both a joke and yet another marker on his descent into depravity at the hands of his sociopathic producer Grant (James Urbaniak). Armed with the option two veto review suggestions this season, Forrest held out and ended up responsible for numerous deaths over the course of this brutal, often uncomfortable season. The bitter irony of Forrest's commitment to the show that ruins so many more lives than it saves or enlightens only intensified as Forrest let every good thing in his life wither away.
The season finale puts the darkest possible cap on a season that redefines black comedy. Forrest seems to catch on to the notion that the show is rigged and his position within it pre-determined. But just when he does, he ends up falling right back into the same patterns. And in the episode's final minute, he acts on an impulse that might have just claimed his life.
To know for sure, we'll have to wait until the third season…if there is one. Comedy Central hasn't renewed the show yet, and its low ratings suggest that the network would have to find other justifications beyond raw numbers for keeping it around. But if it never returns, Review went out in spectacular fashion, stretching its premise as far down into the abyss as it can go.
Read my feature on Megan Stevenson in Paste Magazine.
2. The Leftovers
After skipping this show when its first season aired on HBO last summer, I caught up on all ten episodes just before the second season began. It was one of the most interesting binge-watching experiences I've had, one I wouldn't recommend if you're already in a moderately gloomy mood. But the show's attributes and imperfections intertwined in ways I might not have expected had I watched week to week, as many people did.
All of this to say that the second season of The Leftovers was a glorious surprise, one I would probably have appreciated even more if I didn't see the second-season premiere just days after seeing the first-season finale for the first time. Everything that worked about the first season kicked into overdrive, from the affecting performances to the poignant observations of a broken world. But in place of what made the first season occasionally frustrating was a rich tapestry of mystique, levity, spirituality and almost unbearable suspense. It's as if creators Damon Lindelof and Tom Perrotta cut all of the superfluous or detrimental ingredients out of their stew, then tossed in ten more amazing ingredients that never should have worked together, but somehow did. I've rarely been more captivated by a season of television on an episode-by-episode basis than I was with this one, particularly in the final stretch. It moved me on every possible level, conjuring a dreamlike quality that's almost indescribable.
HBO announced there will be a third and final season, and for that I'm grateful. But if the show had ended on this incredible triumph of a sophomore surge, life would have gone on. Thanks to this "Miracle" season, I'm comfortable with letting the mystery be.
Read my essay on season two in The Week, and check out my Q&A with directing producer Mimi Leder in Slant Magazine.
1. Jane the Virgin
Speaking of miracles, the fact that this show even exists is one. The fact that it succeeds at nearly all of its wide array of ambitions is another. But the fact that it's my favorite show of 2015 is not a miracle. Pretty much from the first few episodes that aired this year, it was the clear choice.
I'm not going to spend this paragraph defending my choice as a vote from the heart instead of the head. I'm not going to say that some shows are better than this one but none makes me happier. I'm not going to defend my decision to rank this show above shows with greater perceived import or literary merit.
Jane the Virgin deserves better than that. Each episode is a product of what appears to be very careful, complex construction. The stories move quickly, as do the characters, whose emotions change from scene to scene, just as ours do minute to minute in our daily lives. There's romance, heartbreak, tragedy, social commentary, slapstick, melodrama and suspense. There's discussion of or subtle references to immigration, motherhood, feminism, academia, race and especially religion. There's voiceover narration that comments upon the main action often enough that it would be irritating if it weren't delightful. There are brilliant, layered, thoughtful performances from everyone in the cast, starting with Gina Rodriguez in the title role, but extending to Jaime Camil, Justin Baldoni, Brett Dier, Andrea Navedo, Yvonne Coll and Yael Grobglas.
What there hasn't been, thus far, is any sense that the show's lightning-fast story movement is approaching its limit. There haven't been any stories seemingly designed as empty, ratings-grabbing diversions. There's hasn't been any attempt to back away from some of the material that's seemingly more challenging to portray onscreen, like the struggles of being the mother of an infant. There hasn't been any sense that any of the characters, even the ones who initially seemed like gimmicks, have ceased to matter to the larger story.
When the first few episodes of the first season aired last fall, I ate them up and then worried that the show would lose steam after bursting out of the gate so strong. Instead, the opposite has happened. The show has only grown more confident in its unique blend of tones, its labyrinthine narratives, its surprise plot twists, its gleeful one-liners or its moments of wrenching emotion. This show is one of the few on television that feels each week like it's redefining, or at least expanding, what the medium can do, rather than working comfortably within established frameworks. That it's also laser-focused on making the audience happy, rather than immersing it in grimness or gloom, makes it both entertaining and important. No qualifiers here: in the age of Too Much is Never Enough TV, Jane the Virgin rose to the top for me this year.
Read my interview with creator Jennie Urman in the Washington Post, and check out my post from midway through the first season.