In an era of Peak TV, for which we need a new and less overused buzzword, a Top 10 list for the year's best television simply isn't enough. What follows is a collection of good-to-great shows that, for a variety of reasons, just missed my marquee year-end list. I've organized this two-part guide to TV's wide range of greatness in 2015 through the lens of one key episode per show. Some of these episodes are the best of their respective seasons. Others are the most emblematic of their respective series' strengths. All of them are worth watching, if you're so inclined.
(Note: I didn't include episodes of shows that appeared in my top 10. But if I had, I'd have included the Edward Snowden interview on Last Week Tonight, the Broad City finale "St. Marks" and the Mad Men stunner "Time & Life.")
Parks and Recreation, "Leslie & Ron"
Season seven, episode four. Written by Michael Schur, directed by Beth McCarthy-Miller. Aired January 20, NBC.
AND "The Johnny Karate Super Awesome Musical Explosion Show"
Season seven, episode ten. Written by Matt Hubbard, directed by Dean Holland. Aired February 17, NBC.
After two seasons that were just good enough to maintain goodwill for one of TV's best-ever comedies but not great enough to stand up to the show's best work, Parks and Recreation delivered one of its best seasons leading up to its untimely farewell. "Leslie and Ron" operates under the rules of a classic bottle episode, with most of the ensemble largely offscreen as the show's two fulcrum characters struggle to come back to the understanding they once had. And "The Johnny Karate Super Awesome Musical Explosion Show" represents a rare break from the classic Parks and Rec form, taking place entirely from the perspective of a Pawnee audience member watching the final episode of Andy Dwyer's public access children's show. These half-hours had moments of wrenching emotion and unrestrained silliness, and they served as two of many reminders this season that Parks and Recreation is one of the best shows of the last decade.
Louie, "Bobby's House" 
Season five, episode four. Written and directed by Louis C.K. Aired April 30, FX.
I can only attribute the relatively minimal discussion of this year's excellent season of Louie to the slighest hint of Louis C.K. overexposure on top of the demands of the Peak TV landscape. The show's surprising mix of tones and C.K.'s deft directorial hand were in fine form this year, particularly in this episode, when Louie and Pamela (Pamela Adlon) take their sexual experimentation too far for Louie's tastes, and Louie also talks to his brother about life's disappointments. What Louie's saying with this episode is less important this how he's saying it, with a spirit of curiosity and innovation that makes Louie one of TV's most influential shows of the last few years.
Inside Amy Schumer, "Twelve Angry Men Inside Amy Schumer"
Season three, episode three. Written by show staff, directed by Ryan McFaul and Amy Schumer. Aired May 5, Comedy Central.
When Vulture pointedly published an annotated list of 100 great female directors working in Hollywood today, I was disappointed to see Amy Schumer's name missing from the list. I haven't seen all of Inside Amy Schumer, but what I have seen makes me appreciate her as a master on the technical side as much as she is an exceptional performer. This homage to Sidney Lumet's classic suspense film, co-directed by Schumer and Ryan McFaul, is impressively committed in tone and aesthetics, on top of its satirical message, laugh-out-loud dialogue and wonderfully unflattering performances from the likes of Jeff Goldblum, Paul Giamatti and Vincent Kartheiser.
Better Call Saul, "Five-O"
Season one, episode six. Written by Gordon Smith, directed by Adam Bernstein. Aired March 9, AMC.
Setting aside the question of whether the debut of Vince Gilligan and Peter Gould's Breaking Bad spinoff was its own thing or just a remixed retread of its source material (I'd argue the former, for the most part), this episode was the show's most explicit callback to the mothership series. It illuminated plot points hinted at in the later seasons of Breaking Bad while also justifying the presence of the gruff Mike Ehrmentraut (Jonathan Banks), who seemed superfluous to the travails of Jimmy McGill (Bob Odenkirk) in the first half of the season. And it offered Banks yet another opportunity to demonstrate his otherworldly command of the tear-inducing monologue. "I broke my boy!" Find me a tissue.
Read my post on Better Call Saul, written the week after "Five-O" aired.
Empire, "Sins of the Father"
Season one, episode nine. Written by Eddie Gonzalez and Jeremy Haft, directed by Rob Hardy. Aired March 11, Fox.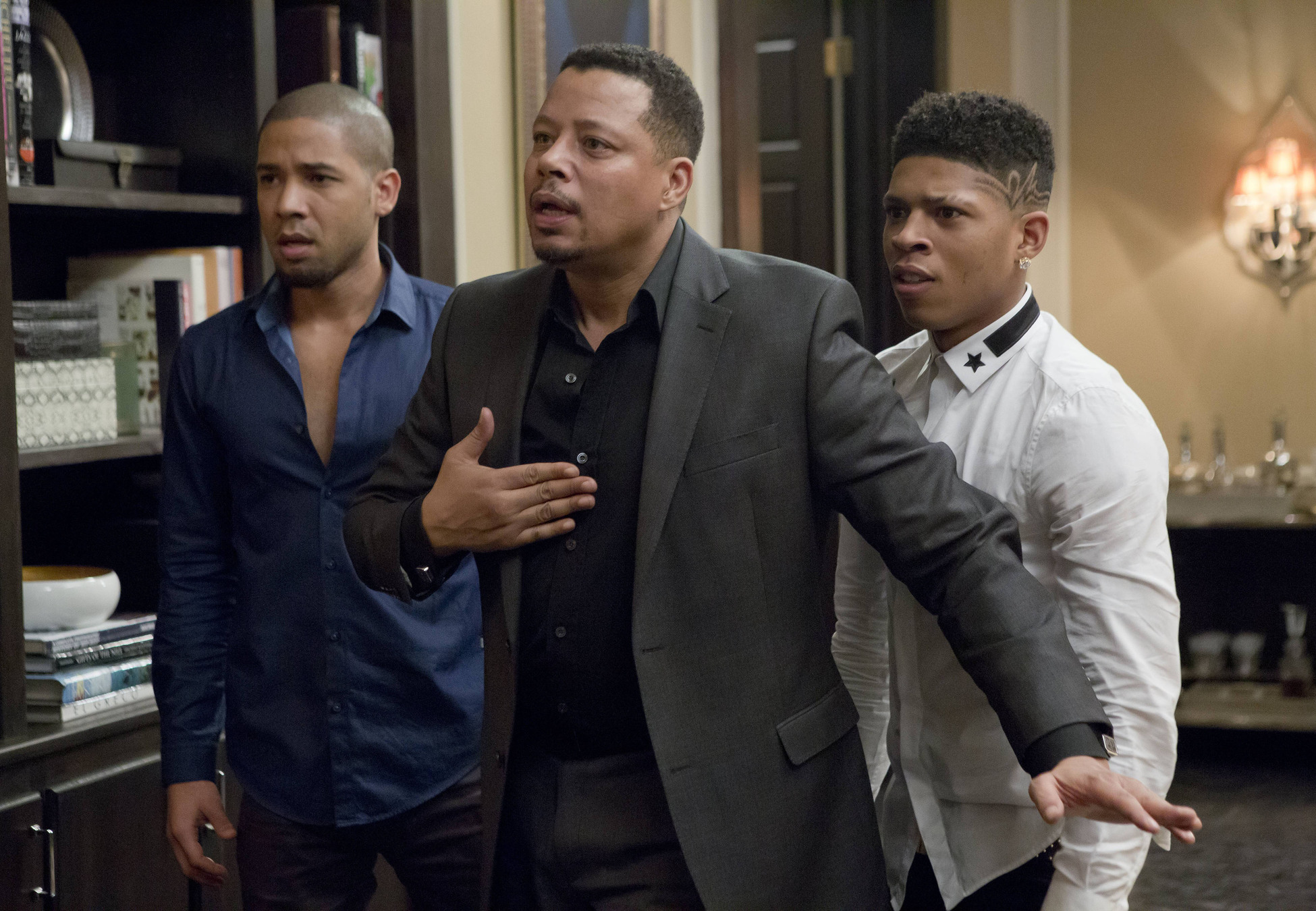 This episode of the year's biggest breakout commercial success is both gloriously ridiculous and unexpectedly affecting. It has more ludicrous twists and heightened melodramas than entire seasons of some TV soap operas, but it has a dramatic through-line and an awareness of its main character's fundamental flaws that the second season episodes this fall have largely abandoned. The first season of Empire was flawed but captivating; the second season has been turgid and ludicrous, with isolated moments of competence and transcendence. If the show's creators Lee Daniels and Danny Strong want to right the ship, "Sins of the Father" should be their roadmap.
Read my post on the first season of Empire, written just two days before this episode aired.
The Americans, "Do Mail Robots Dream of Electric Sheep?" 
Season three, episode nine. Written by Joshua Brand, directed by Stephen Williams. Aired March 29, FX.
Elizabeth Jennings (Keri Russell) faces one of her greatest tests yet in this extraordinarily tense episode of the underwatched, underawarded spy drama set during the height of the Cold War. In the process of carrying out a mission, she comes across an old woman who's both innocent and emotionally astute, challenging Elizabeth's entire worldview in the process of negotiating for a longer lease on life. With a playful title inspired by the Philip K. Dick short story, expert direction and an unbelievable guest turn from the veteran character actor Lois Smith, this episode is the finest of an almost universally strong third season for one of TV's most critically acclaimed shows.
Read my short post on the second season.
Veep, "Testimony"
Season four, episode nine. Written by Sean Gray, Armando Iannucci and Will Smith, directed by Armando Iannucci. Aired June 7, HBO.
If this episode were just The Jonad Files followed by 22 minutes of dead air, it would still be an inevitable component of this list. Series creator Armando Ianucci announced his departure the show following the end of this season, and this penultimate season four episode, which he directed, is a fitting and explosive farewell. Comprised entirely of C-SPAN-style footage from a series of hearings in which the vice president and her staff are on trial for a variety of misdeeds and missteps, this half hour is brutally funny and structurally sound, building a tragic story out of a seemingly endless string of the faux pas that surprise no one coming from Selina Meyer and her team of doofuses.
Read my post on the fourth season and check out my thoughts on the underappreciated genius of Sam Richardson. Listen to my podcast with Devin Mitchell and Kevin Werner about the fourth season.
Community, "Emotional Consequences of Broadcast Television"
Season six, episode thirteen. Written by Chris McKenna and Dan Harmon, directed by Rob Schrab. Debuted June 2, Yahoo Screen.
As much as I've written in the past about my ambivalence toward the latter seasons of this resilient, resolutely weird comedy series, the unlikely sixth season — distributed by Yahoo Screen, of all things — was the show's best in at least three years. New cast members Paget Brewster and Keith David proved a good fit for the wacky existing ensemble, even without some of its original members (Donald Glover, Chevy Chase and Yvette Nicole Brown all moved on to to new pastures, only some of them greener.) And this season, creator Dan Harmon rediscovered the delicate balance of meta nuttiness and emotional truth that made this show at its best a remarkable exercise in the study of deeply damaged characters who turn around and make us cry as much as they make us laugh. The season, and likely series, finale put as elegant a bow on the madcap madness that came before as fans of the show could expect, even while commenting on that very act within the dialogue of the episode.
Read my post about the season (series?) finale.
Orange is the New Black, "Finger in the Dyke"
Season three, episode four. Written by Lauren Morelli, directed by Constantine Makris. Debuted on June 11, Netflix.
I'm a little baffled by the muted admiration for this season of the acclaimed Netflix series, which was almost certainly the weakest of its three years, but hardly a catastrophe. This season still had inspired ensemble matchups and terrific character showcases. In particular, this Big Boo spotlight offered the show at its most surprising and enriching, giving Lea DeLauria a full hour with which to show off her equal affinity for comedy and drama.
Read my instant reactions to all thirteen episodes of the third season.
Silicon Valley, "Two Days of the Condor"
Season two, Episode ten. Written and directed by Alec Berg. Aired June 14, HBO.
The second season finale of Mike Judge's riotous satire of the modern technology industry and West Coast startup culture ramped up the tension higher than many dramas. It's a testament to the strength of the storytelling in the show's second go-round that the machinations of the Pied Piper team's struggle for funding generated potent suspense, given that last year's finale suggested the team would always defeat the odds and come out on top. And thanks to next-level performances from Thomas Middleditch, Kumail Nunjiani, Martin Starr, Zach Woods and the award-worthy T.J. Miller, the interpersonal dynamics brought more consistent laughs in year two as well. Had this show aired from October to December, I suspect it would have figured higher than it did on many critics' best-of-the-year rankings.
Read my post on the end of season two and check out my thoughts on the underappreciated gifts of Zach Woods.
Catastrophe, "Episode 1"
Season one, episode one. Written by Rob Delaney & Sharon Horgan, directed by Ben Taylor. Originally aired in the U.K. on January 19, Channel 4; debuted on  June 19, Amazon.
Picking one standout episode of this tightly constructed six-episode comedy series, scripted entirely by stars Rob Delaney and Sharon Horgan, proved difficult. With only three hours to tell the first act of its story, this pilot episode has a lot of ground to cover, as Rob and Sharon meet, hit it off, have sex (many, many times) and part ways, only to come back together for good on Sharon's home turf in England when she calls him during a date to inform him that she's pregnant and plans to keep the baby. But the instant chemistry between Delaney and Horgan, the breeziness and unforced honesty of the dialogue and the efficiency of the storytelling made binge-watching this series instantly and rewardingly essential.
Read my post on the first season.
Tomorrow: more great episodes, July to December.